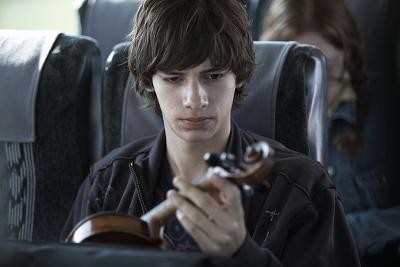 Atom Egoyan's new film ADORATION, is good enough to be considered with the best of his work - THE SWEET HEREAFTER and ARARAT. It's a sophisticated, emotionally resonant drama about clingng to grief and the slippery nature of memory - themes explored in other Egoyan films. The movie is well-acted, beautifully scored and cleverly put together.

The heart of the film is a Lebanese schoolteacher called Sabine (Arsinée Khanjian) who befriends an orphaned schoolboy called Simon (Devon Bostick). She encourages him to develop a dramatic monologue in which he imagines that his father was a terrorist who had planted a bomb on his wife, then pregnant with Simon. If she hadn't been interecepted by security, Simon, his mother and 400 passengers would have died. Simon - precociously calm and articulate - becomes engrossed in this alternative history to the point where he insists on pretending that it's true to his schoolfriends and the wider internet chatroom community. It is hinted that he gets off on the audience reaction and his newfound local notoriety. It is, after all, more satisfying to control a story than to have to piece together fragments of your parents fateful car crash and your grandfather's racist attitude toward your father.

At the same time, Sabine tries to reach out to Simon's uncle, Tom. He's an insular man who tries to avoid confrontation, in sharp contrast to Simon's father who tackled his father-in-law head-on. Tom is the opposite of Simon, refusing to even try to make sense of past events, avoiding emotional or intellectual engagement with reality until Sabine literally forces herself into his life. I was suprised to find that underneath the beard, the actor playing Tom was Scott Speedman - the guy from the UNDERWORLD movies. It seems that with the right material he is a talented actor.

The movie progresses by small reveals and small obfuscations in that typical Egoyan way. But slowly we follow the characters uncovering the truth of Simon's parents relationship and the events leading up to their death. More importantly we see three characters who begin the movie in a state of arrested mourning move toward some sort of peace, if not quite normality.



ADORATION played Cannes, Toronto, and London 2008. It opens in France on January 7th and in South Africa on February 13th.