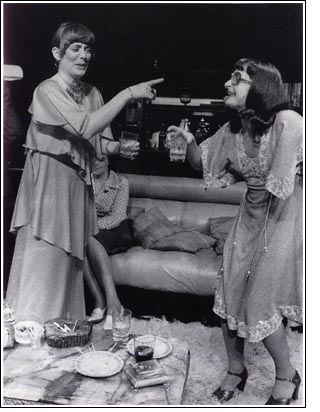 ABIGAIL'S PARTY has a mammoth reputation in British cultural history. It's a late 1970s TV play that threw a satirical light on the British obsessions of class, social climbing, and consumerism. It made Alison Steadman famous and propelled sometime actor Mike Leigh into his career as a writer-director.

I found ABIGAIL'S PARTY heavy work. Recent television shows such as SHAMELESS have made an art-form of the serio-comedy that satirises British class prejudice and social aspiration. As a result, ABIGAIL'S PARTY feels like a clunking prototype that is less subtle and insightful than its successors.

The film is a straightforward adaptation of a stage play, and is filmed in a very unambitious "camera in front of the proscenium arch" style. All the action takes place in a suburban living room in 1970s Britain. A couple - Beverly and Laurence - are hosting their neighbours - a couple called Angela and Tony and a divorced mother called Susan. Susan's teenage daughter, Abigail, is hosting a party next door but is never seen. Over the course of the evening, alcohol is consumed, music is played and marital tensions exposed. There is also a rather incredible and odd denouement.

Alison Steadman is much-praised for her performance as the domineering, sharp-tongued social climber, Beverly. It's true that Beverly is a true monster and, as such, a memorable creation. But is she credible? Is she funny? Certainly, we can all recognise aspects of her character - the grandstanding - the ambition - her self-delusion - the ruthless use of others for her own ends. But Steadman's shrill voice, heavy accent and over-bearing body language turn Beverly into a caricature rather than a real character. As a result, it's hard to empathise with her and, worse still, hard to remain interested in her after the first fifteen minutes or so.

Janine Duvitski also adopts a caricature accent as Beverly's dowdy neightbour, Angela. Angela is a nurse and has a more practical mind than Beverly but still whines about inconsequential matters.

Both of these women are contrasted with their emasculated husbands. Indeed, they barely register as a presence: Beverly's husband Laurence (Tim Stern) is mostly absent, running errands, and Angela's husband Tony (John Salthouse) is silent and superior. One wonders why, if he feels so superior to his own prattling wife, he is so taken in by another.

All four neighbours are thrown into contrast with the patient, poised, evidently upper middle-class neighbour, Susan, played by Harriet Reynolds.

Mike Leigh is presumably trying to make some sort of point about the superficiality and frustration at the heart of British lower-middle class life in the 1970s. The audience is invited to mock people who try to portray themselves as having superior taste in music and clothes, but only reveal themselves to be kitsch. Are we meant to feel sympathy for these characters? After all, they are all deeply unhappy? Sadly, I don't think so.

To me, this film felt deeply nasty - just an opportunity to mock people of poor taste, unhappy marriages and superficial character. Maybe I'm missing something, but I could discern nothing that was funny or insightful or that spoke to the human condition.



ABIGAIL'S PARTY was originally broadcast on British TV in 1977. It is available on DVD.