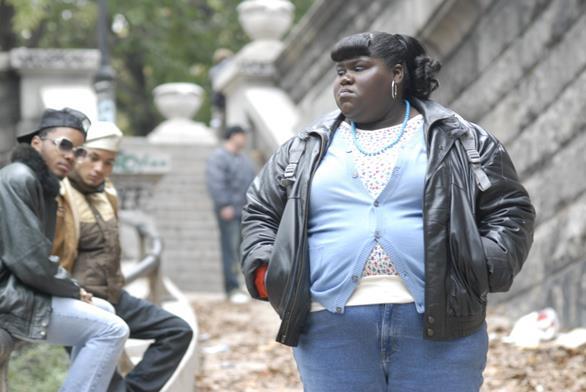 PRECIOUS is a tremendously funny, moving film that has won Audience Awards and critical acclaim on the festival circuit. As the ungainly title says, it's based on a novel by an American author who had worked with young girls in the projects. The resulting protagonist, Clarice "Precious" Johnson, is a compendium of the troubles they experience. She is obese and illiterate, the mother of two children before she is 17, both the result of paternal rape. Her mother is obese, foul-mouthed and verbally and physically abuses the child she perceives to have stolen her man. Precious begins to rehabilitate after being kicked out of school and into the Each One Teach One programme. An heroic teacher gets her literacy and confidence up and she finds friends for the first time. But even then, author Sapphire loads more onto her, as she realises that her father made her HIV positive.
The technical choices in this film are superb. Lee Daniels preserves the stream of consciousness from the original novel, including the way Precious forces herself into a fantasy world to escape abuse. Horrific acts are shown to us, but when you think about it, we're shown less than we imagine through these brief flashbacks, especially concerning marital rape. But what really sets this movie apart are the performances. Newcomer Gabourey Sidibe gives a great performance as Precious - able to play both the downtrodden teen and the confident, sexy girl of her fantasy life. Paula Patton (DEJA VU) is empathetic as her teacher. But the real surprises come from the celebrity cast. Lenny Kravitz gives a fine modulated performance as "Nurse John". Mariah Carey is astoundingly good as social worker Mrs Weiss. But most of all, someone needs to give Mo'nique as Oscar for her performance as Precious' mother. She plays a hideous monster for most of the film - appallingly abusive. But in a final confrontation with Mrs Weiss and Precious, Mo'nique gives depth, layers, and even vulnerability to that character that brought me to tears.
PRECIOUS played Sundance, Cannes and Toronto 2009. It will be released in the US on November 6th, in the Netherlands on November 12th, in Finland on January 22nd, in Sweden on January 29th, in Australia and New Zealand in February and in France on March 10th.