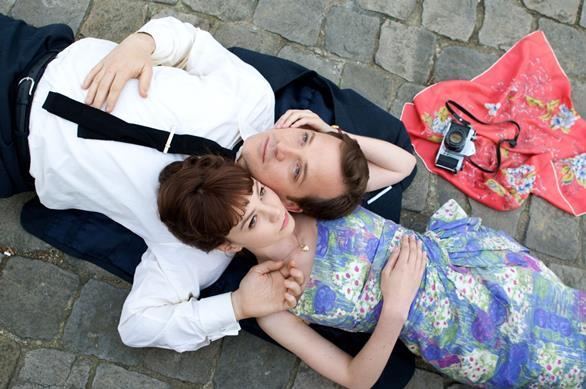 AN EDUCATION
is a British coming-of-age drama set in the swinging sixties, based on the memoirs of the British journalist Lynn Barber. It's essentially the story of an intelligent young girl swapping a place at Oxford (and a conventional life) with her dream of being an urban sophisticate, in the arms of charming man (Peter Sarsgaard). As I was attending another screening, Our Gmunden Correspondent took my ticket. Here are his thoughts:
"Just a few thoughts on An Education.
Yes it was nice. The film is a fine period drama on the clash of bourgeois and bohemian life in the early sixties, expressed in the ambivalent experiences of young Jenny, coming of age. There is everything a good film needs to have, a perfect script, great set design, catchy music, and, above all, impeccable performances of a dream cast (even if it sometimes felt a bit overacted, meaning that the actors seemed more to enjoy themselves in showing off their great talent and skill than actually embodying a persona; but good, no doubt). It is entertaining and a pleasure to watch and to listen to. If that's what we are looking for in a film, mission accomplished, all good. If we are setting higher standards, want to see revelations and revolutions in filmmaking, it seems like a little etude, do everything you are expected to do and you will get a good movie, which is not more than the sum of its parts, rather less even. It would be worth looking the flick just to hear the actors talk, devour the great sets and sounds, and accomplish the perfect editing, yet there is something missing. It lacks the subtlety of showing the inbetweens of lifestyles, that there is grey zone between good and bad, between the deeds society demands and the pleasures the individual needs. To cut it short: Watch it, enjoy it, don't think about it too much. Full stop."
AN EDUCATION played Sundance 2009 where John de Boorman won the Cinematography Award and Lone Scherfih won the Audience Award. It also played Berlin, Sydney, Brisbane, Toronto and Helsinki 2009. It is currently on release in New Zealand, the USA, Australia and Israel. It opens next week in the UK. It opens in February 2010 in the Netherlands and Germany and opens in April in Norway.