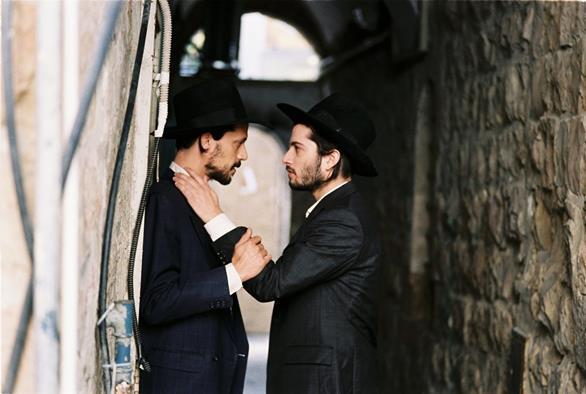 E
YES WIDE OPEN is Haim Tabakman's immensely impressive and brave debut feature about the difficulty of reconciling a private life within a community of strict orthodoxy. To be sure, Tabakman has explored this issue by depicting a homosexual love affair within an Orthodox community in Jerusalem, but the issues would apply equally to, say, young girls threatened with "honour" violence in the UK, or, say, gays in the Catholic church. This is a film about people who cannot simply cut the ties from the communities who reject them and flee to a more tolerant place, but want to live out both their private life and their faith. The inability to choose on or the other is the tragedy.
The movie succeeds because it is resolutely NOT sensationalist but actually rather quiet and introspective and intimate. Zohar Strauss plays a butcher who is playing a role in his father's butcher's shop and as a husband and father. He seems to be a genuinely kind man, and a man of faith. He falls for a handsome young man (Ran Danker) who has already been expelled from one religious community. Aaron is warned by the Rabbi and more menacingly by a self-appointed group of young men. There is a particularly beautiful shot where the two are arguing in front of the shop about whether the relationship is tenable. A van pulls away and in the reflection we see that this whole argument has taken place in front of the menacing youths. And at the same time, the story is widened out, to show a young girl acquiesce to an arranged marriage.
This really is a powerful, sensitive relationship drama that shows a situation that is more widely relevant that a reductive plot summary might suggest. It is not at all sensationalist or exploitative, but authentic, credible, well-acted and well-photographed. It deserves to be widely seen.
EYES WIDE OPEN / EYNAIM PEKUKHOT played Cannes and Toronto 2009 and opened in September in France and Israel. It opens in Belgium on December 2nd.